Community Building Grants
Learn how we can help you help your community
Community Building grants support individuals and groups who have innovative ideas about how to make their local communities better places to live and raise families. Local communities might be just one block or a larger neighborhood area or a group of community members who have shared experiences. 
Our grants can range from $500 to $1500 to support projects and ideas that bring people together, share skills and knowledge, and help make Evanston a place that helps children and their families.
 Projects and events must be free, accessible, and welcoming to all. Fundraising, entrance fees, and requests for donations are not part of any of our funded programs.
some Past grantees
World of Women (WOW) seeks to bring black and brown mothers together for support, to share information and ideas, and to get a relief from the everyday stresses of being mothers.  Each session is focused around a theme—such as self-care or kindergarten readiness, each designed to share useful information. More importantly, each session offers community to mothers that may feel isolated or overwhelmed on their own.  The group has grown exponentially by word of mouth, clearly filling a void that exists in our community.
Paint and Puff was an event to celebrate textured hair--curls, coils, puffs, locs, braids, and twists. In speaking with our girls, we learned that there is a real need for hair identity and support. We had a lot of fun painting with colors that were customized to our individual looks and the creativity was overflowing along with the conversation. We learned by the end of the class that the girls really just need more images that looked like them. More emphasis needs to be placed on what to do with curly hair and especially how to celebrate it! Below are the bags they created at the session.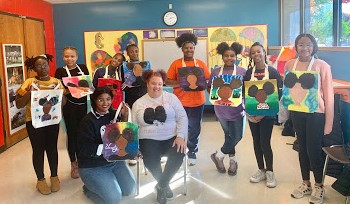 This Community Building Grant Program is in partnership with the Evanston Community Foundation.
Interested in Applying?
for information
To submit application Online
To complete and submit our online application, CLICK HERE.

To see a step-by-step guide to submitting online, see our video below
still have questions?
Please email us at evanstonc2c@gmail.com