Community Building Grants
Learn how we can help you help your community
Community Building grants support individuals and groups who have innovative ideas about how to make their local communities better places to live and raise families. Local communities might be just one block or a larger neighborhood area or a group of community members who have shared experiences. 
Our grants can range from $500 to $1500 to support projects and ideas that bring people together, share skills and knowledge, and help make Evanston a place that helps children and their families.
 Projects and events must be free, accessible, and welcoming to all. Fundraising, entrance fees, and requests for donations are not part of any of our funded programs.
some Past grantees Interviews
VOLLEY 4 CHANGE (CYCLE 4:2022)
1.) How did you get involved with the Community Building Grant program?
I have been following the EC2C Instagram for quite some time, so when I saw the post about the May Community Building Grant, I knew that I needed to share this information with my Co-Founders, Margaret Adams and Cherie Animashaun, and apply. From there, Cherie filled out the grant application, and the rest is history! 
 2A.)Tell us about your event/project?   Volley 4 Changeis a non-profit organization dedicated to disrupting the financial and locational barriers that disproportionately limit access to volleyball for girls of color and low-income women in the Evanston area. We created a free summer camp that took place in July 2022 at Mason Park that allowed participants to develop their athletic skills and build community through shared identity. Our staff was composed of ETHS volleyball coaches and current and former ETHS volleyball players so that we could provide participants with valuable insight into the ETHS girls volleyball experience, as well as advice for tryouts and other volleyball endeavors. In the future, we hope to connect with club volleyball organizations around the area and provide participants with scholarships to attend club volleyball during their off-season!
2B.) How did your event/project make Evanston a better place to live and raise families? Through our personal experience, Margaret, Cherie, and I recognized that as volleyball becomes more selective, it becomes less diverse in regards to race and class because club volleyball experience is prioritized during tryouts, which can cost anywhere between $3,000-5,000. This is why we created a summer camp that would be able to condense the technical aspects of club volleyball into a summer camp that would be accessible to all Evanstonians. 
 3.)What does "community building" mean to you? Community building is about equity and genuinely putting in the work to make sure everyone in your "neighborhood" is supported and has the best standing to be successful.  
MR.MANN AT RADIO LA DIFFERENCE (CYCLE 4 2022)
1. How did you get involved with EC2C's community grant building program?     Two and a half years ago I had the opportunity to join EC2C - ADVOCATES FOR ACTION Organization to produce and broadcast their Saturday Morning Community Coffee show on Facebook Live and on Radio La Difference platform and that's how I learned about it.
 2. Tell us about your event/project? The idea for the project was to bring awareness to community members about the existence of RADIO LA DIFFERENCE a local media of 13 years that offers a different type of communication services.
3. How does your event or project make Evanston a better place to live and raise families? The project transfers important information to the community via a worldwide Mass Media available 24/7
4. What does community building mean to you? I've always been part of several Community projects simply because I believe it creates a better environment and better future.
5. What is your biggest dream for your community? I'd like to see a much safer community leadership, and support conditions to help the youth become law-abiding, productive citizens.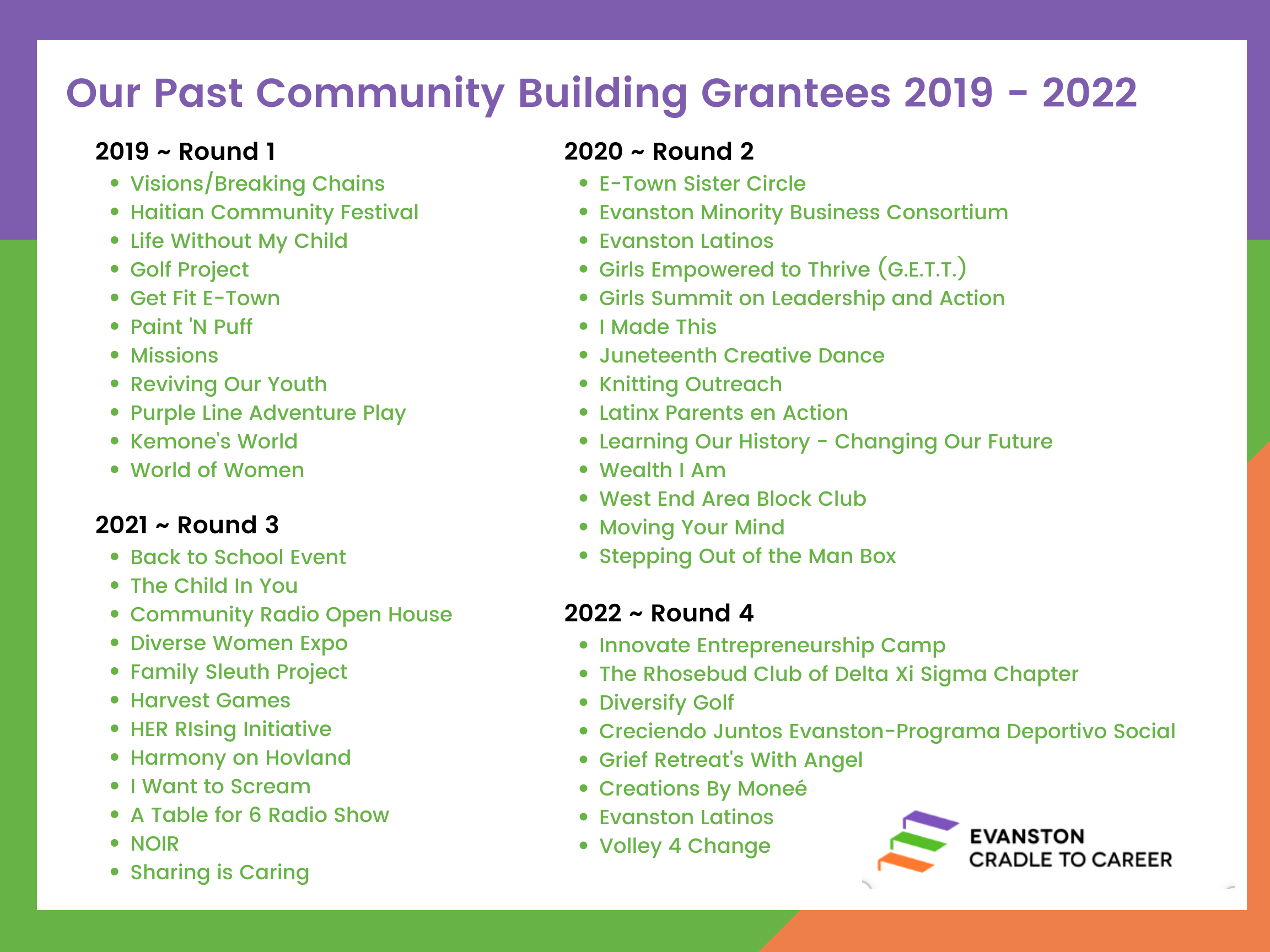 This Community Building Grant Program is in partnership with the Evanston Community Foundation.
Interested in Applying?
for information
To submit application Online
To complete and submit our online application, CLICK HERE.

To see a step-by-step guide to submitting online, see our video below
still have questions?
Please email us at evanstonc2c@gmail.com