May 11, 2016
Everybody Reads Book Drive
Evanston Cradle to Career (EC2C) is kicking off its first annual Summer Learning Initiative to increase literacy and combat summer learning loss. In collaboration with EC2C Partners Evanston Public Library and Evanston Public Library Friends, EC2C is launching the Everybody Reads Book Drive to supply

specially selected books

to children attending City of Evanston and Ridgeville summer camps. In collaboration with these camps, this summer, children will have regularly scheduled reading times as part of their camp activities with additional support by children's librarians. The books acquired through the drive will serve Evanston youth by encouraging reading throughout the summer: a proven strategy for strengthening future school achievement.
The book drive seeks donations of high-quality books that reflect the diversity of our community; books we know our children and youth will love. Evanston Cradle to Career encourages Evanston community members to support this book drive today by purchasing books from the Everybody Reads Book List or making financial contributions to the Evanston Public Library. The book list and ways to contribute can be found here:  http://epl.org/pdfs/EverbodyReadsList.pdf  Purchased books can be dropped off at EPL branches or any Evanston community center or mailed directly to EC2C through the Amazon wish list to Evanston Cradle to Career, 2010 Dewey, 2nd Fl, Evanston, IL 60201.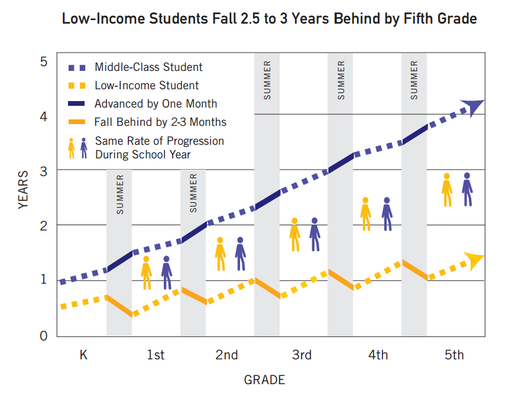 Research shows that by 6th grade, summer learning loss significantly contributes to low income children being more than 2 years behind their higher income peers in literacy.

 

But this is preventable.

 

Studies have also shown that regardless of family income, reading as few as four or five books over the summer could prevent this decline in reading achievement scores.  Through the Everybody Reads Book Drive, Evanston Cradle to Career is working to ensure that good books that reflect our diverse community are available to all children this summer.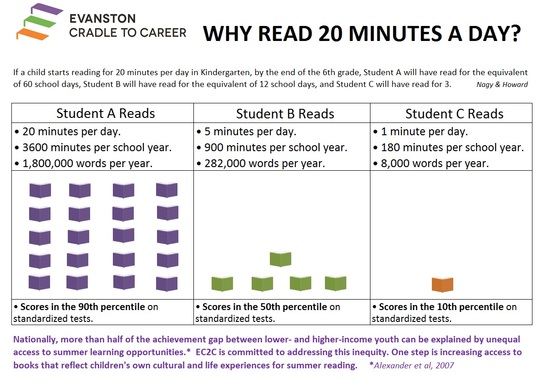 Evanston Cradle to Career (EC2C) is committed to ensuring that ALL Evanston young people have the opportunity to achieve their potential. Together we can ensure that our children's literacy is growing during the summer months by ensuring that all of Evanston's children will have access to literature they will be excited to read.  Increasing access to diverse, high quality books can be one important step in our commitment to reversing our community's achievement gap.